Send a parcel to Australiafrom only £13.37
Collection and drop-off service available
Get parcel cover worth up to £50 included
Protect your parcel up to £5000 with extra cover
Send up to 70kg on selected services
Get a Quote
No Services
---
There are no services that collect and deliver to your selected countries.
Australia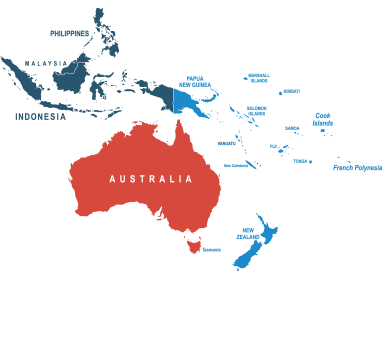 Whether you're sending a parcel to Sydney, Melbourne or even some of the more remote areas in the Outback, at DPD Local Online we'll help you make sending parcels to Australia as easy as possible.
Thanks to our extensive courier delivery network and our knowledge of international shipping, we'll not only help you find the cheapest parcel delivery to Australia, but will also ensure we help you arrange the most affordable parcel delivery without sacrificing any quality of service.
Parcels to Australia from the UK
With our range of economy and express services, working out what postage to Australia will cost you is really easy with DPD Local Online. We can help you find a service that matches both your budget and your timescales, making sure you get your parcel where it needs to be with the minimum of fuss.
We're well known for our fast and reliable parcel delivery service too, so even if you're not sending a parcel to the famously cosmopolitan cities of Australia's east coast, we'll make sure your parcel gets there when you want it to.
To send your parcel to Australia, get your parcel service quote from DPD Local Online today.
Get a Quote
Express
Drop off at Shop - Air Express
Drop off your parcel
anytime today
Buy This Service
Economy
Drop off at Shop - Air Classic
Drop off your parcel
anytime today
Buy This Service
What else do you need to know...
Do I need to deal with customs when sending from the UK to Australia?
Since Australia lies outside of the EU, you'll be required to supply documentation for customs and import tax before shipping from the UK.
Luckily, we've made it as easy as possible to ensure your goods are properly documented. Once your booking is complete, we'll send you over all the correct forms you need to fill in to take that weight off your mind. Easy!
How much does it cost to send a parcel from the UK to Australia?
Postage to Australia costs as little as £13.37 when you book through DPDLocal-Online. And with plenty of options on all our services — including protection cover, signature tracking, and drop-off delivery — you can customise your order to suit you down to a tee when posting to Australia, or anywhere else for that matter.
How should I address my parcel for delivery to Australia?
By and large, Australia uses the same address system as the UK, so it should be fairly straightforward to address your package. Remember to put the state abbreviation (for example, "NSW" for New South Wales) on the same line as the town and the postcode, written between the two.
For a more detailed breakdown of everything you need to know when addressing to Australia, you can check out this useful addressing guide put together by the Universal Postal Union.
What items can I send?
Australia is famed for its strict customs standards, because of their efforts to preserve their wildlife. As such, prohibited items to the country include:
Soil of whatever quantity

Plants and plant matter

Articles of leather, including saddlery

Cardboard boxes that have previously been used to carry fruit, vegetables, or meat that could contain harmful organisms
For any additional information on what can be sent to Australia, check with the Australian customs authority. You should also check out our prohibited items page for items that our couriers can't legally handle.
How do I get a quote?
Getting a quote is easy. Just enter the details of your parcel (its weight, height and length) into the quick-quote tool above, click Quote & Book, and choose the courier quote that's right for you. Simple.
Get a Quote
Where can I find more information?
If you need any more information, you'll find plenty of helpful stuff at our online Help Centre There you can browse our FAQ guides — covering everything from packaging tips to international shipping advice — or talk to one of our friendly advisors via the chat window.
Get a Quote