Send a parcel to Bangladesh from only £12.76
Collection and drop-off service available
Get parcel cover worth up to £50 included
Protect your parcel up to £5000 with extra cover
Send up to 70kg on selected services
Get a Quote
No Services
---
There are no services that collect and deliver to your selected countries.
Bangladesh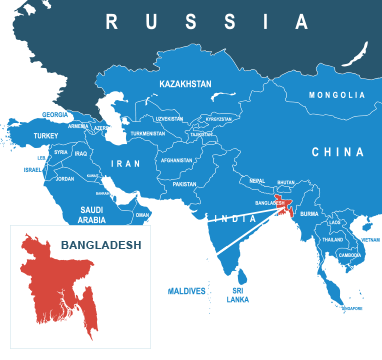 One of the world's most densely populated countries, it's no surprise that we regularly arrange parcel delivery to Bangladesh. With our extensive experience in international parcel delivery, you can be certain that arranging your shipping to Bangladesh with DPD Local Online will ensure that you're getting the very best service for the most affordable price.
When it comes to parcel delivery to Bangladesh, we're proud to offer some of the best options for quick, easy and safe courier delivery whether you're sending lots of parcels or just one.
Send parcel to Bangladesh from the UK
Working out how much shipping to Bangladesh will cost you is easy with DPD Local Online too. Just choose from our express and economy courier delivery to find the most appropriate service for your budget, all you need to do is complete our simple online form and we'll give you an instant quote.
Trusted by millions of senders, shipping to Bangladesh needn't be daunting with DPD Local Online.
To put your parcel in safe hands, book your parcel delivery service to Bangladesh today.
Get a Quote
Express
Door 2 Door - Air Express
Collection tomorrow
if you book in the next
2 hours
Buy This Service
Economy
Drop off at Shop - Air Classic
Drop off your parcel
anytime today
Buy This Service
What else do you need to know...
Do I need to deal with customs when sending from the UK to Bangladesh?
There are various customs duties that your parcel will undergo when send to Bangladesh from the UK, with the majority of goods subject to import tax and other regulations. At DPDLocal-Online, however, we make shipping to Bangladesh really straightforward. Whenever you book an international order with us, we'll actually send you all the documents you need to complete with your label.
How much does it cost to send a parcel from the UK to Bangladesh?
Posting to Bangladesh can cost as low as £12.76 by booking through DPDLocal-Online.
How should I address my parcel for delivery to Bangladesh?
There are a couple of parts of the Bangladeshi addressing system that might cause some people to trip at the addressing process. For example, addresses are aligned to the right of the label, and there is normally a dash required between the locality and the postcode.
Not to worry, though: the Universal Postal Union has put together a useful addressing guide for Bangladesh to ensure that anyone can address their parcels there correctly.
What items can I send?
There's a fairly extensive list of items prohibited for import into Bangladesh. Banned items include:
Illegal drugs

Weaponry and explosives

Feature films not certified by the Bangladesh Film Censorship Board

Guide and relief maps, and educational charts

Onions

Bamboo and cane
You can find a more detailed list online here. For any further information, contact HM Revenue and Customs, or visit our prohibited items page for a list of goods not fit for courier handling in the UK.
How do I get a quote?
Getting a quote is easy. Just enter the details of your parcel (its weight, height and length) into the quick-quote tool above, click Quote & Book, and choose the courier quote that's right for you. Simple.
Get a Quote
Where can I find more information?
If you need any more information, you'll find plenty of helpful stuff at our online Help Centre There you can browse our FAQ guides — covering everything from packaging tips to international shipping advice — or talk to one of our friendly advisors via the chat window.
Get a Quote