Send a parcel to Belgium from only £12.50 inc VAT
Collection and drop-off service available
Get parcel cover worth up to £50 included
Protect your parcel up to £5000 with extra cover
Send up to 70kg on selected services
Get a Quote
No Services
---
There are no services that collect and deliver to your selected countries.
Belgium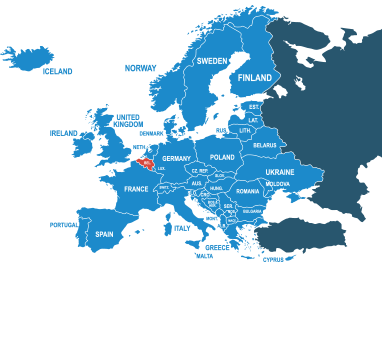 Whilst Belgium might be a small country, it has a huge international economy and is consistently ranked as one of the best places to live - and not only because some of its best-known exports are chocolate and beer.
When you choose to arrange your postage to Belgium with DPD Local Online, you can be certain that you're booking a parcel delivery service that you can trust.
Send parcel to Belgium from UK
A hugely popular destination for cheap parcel delivery from the UK, our extensive European parcel courier network is used to meeting high demand. We can get your parcel to Belgium quickly and at a price that will meet your budget.
Calculating the cost of postage to Belgium is easy with our simple-to-use online form, which puts our economy and express courier delivery services at your fingertips. Whether you're sending a parcel to Brussels, Antwerp or Bruges, you'll find that DPD Local Online are the best value when it comes to arranging your postage to Belgium.
Book now to arrange your cheap parcel delivery with DPD Local Online.
Get a Quote
Express
Door 2 Door - Air Express
Collection tomorrow
if you book in the next
2 hours
Buy This Service
Economy
Drop off at Shop - Air Classic
Drop off your parcel
anytime today
Buy This Service
Super Economy
Drop off at Shop - DPD Classic
Drop off your parcel
anytime today
Buy This Service
What else do you need to know...
Do I need to deal with customs when sending from the UK to Belgium?
Belgium is a part of the EU, which means that you won't need to attach any customs documents when posting to Belgium from the UK.
How much does it cost to send a parcel from the UK to Belgium?
Postage to Belgium costs as little as £12.50 plus VAT when you buy through DPDLocal-Online.
How should I address my parcel for delivery to Belgium?
Belgium adheres to the same addressing rules as the UK, so when addressing your parcel you can largely just follow the same rules you might when addressing a parcel within the UK. There's a detailed breakdown of how to address a parcel to Belgium produced by the Universal Postal Union that you can read here.
What items can I send?
There are a number of items that you can't send to Belgium because of their import regulations. Prohibited goods include:
Meat and milk originating from non-EU countries;

Products of protected species protected under the Washington Convention, like ivory, tortoise shell, and reptile skin;

Fish weighing over 20kg.
For more information of what you can and can't send to Belgium, get in touch with the Belgian customs authority. You should also refer to our prohibited items page for a list of items that our couriers can't legally carry
How do I get a quote?
Getting a quote is easy. Just enter the details of your parcel (its weight, height and length) into the quick-quote tool above, click Quote & Book, and choose the courier quote that's right for you. Simple.
Get a Quote
Where can I find more information?
If you need any more information, you'll find plenty of helpful stuff at our online Help Centre There you can browse our FAQ guides — covering everything from packaging tips to international shipping advice — or talk to one of our friendly advisors via the chat window.
Get a Quote