Send a parcel to Brazil from only £30.26
Collection and drop-off service available
Get parcel cover worth up to £50 included
Protect your parcel up to £5000 with extra cover
Send up to 70kg on selected services
Get a Quote
No Services
---
There are no services that collect and deliver to your selected countries.
Brazil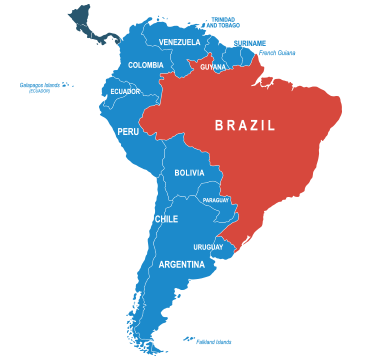 Home to nearly 60% of the Amazon rain forest, the World's most famous carnival, and one of the 7 Wonders of the World, Brazil is most definitely awe-inspiring.
Well-known for the affordability and reliability of our parcel delivery service, when it comes to postage to Brazil you can trust DPD Local Online to deliver a smooth service.
Send parcel to Brazil from the UK
Helping you arrange your postage to Brazil whether you want to send a cheap parcel to the bright lights of Rio de Janeiro, Sao Paulo or Salvador; at DPD Local Online we have a worldwide parcel delivery network which will give you unparalleled opportunities when it comes to meeting both your timescales and your budget.
With express and economy parcel delivery services available, complete our online form to receive your quote to send parcel to Brazil today.
Get a Quote
Express
Door 2 Door - Air Express
Collection tomorrow
if you book in the next
3 hours
Buy This Service
Economy
Drop off at Shop - Air Classic
Drop off your parcel
anytime today
Buy This Service
What else do you need to know...
Do I need to deal with customs when sending from the UK to Brazil?
Brazilian customs are known for their high import taxes, and you will need to ensure you carry out all the necessary customs duties when posting to Brazil to ensure your parcel gets to its destinations. Thankfully, we'll send you all the documents you need for your parcel when you book an order with us. Just a little something we do to take the stress out of sending.
How much does it cost to send a parcel from the UK to Brazil?
Postage to Brazil start as low as £30.26 when you book with us. There's a range of options for you to choose from too, from express and economy speed delivery to collection and drop-off dispatch. Whatever you choose, it's cheapest with us.
How should I address my parcel for delivery to Brazil?
Addressing a parcel to Brazil can be confusing if you've never done it before. There's a unique ZIP code that needs to be added, as well as sectors and quadrants of each city, and state abbreviations much like in US addresses.
Thankfully, the Universal Postal Union have made everything easy by issuing this handy addressing guide for Brazil that you can refer to.
What items can I send?
There are a few items that are strictly not permitted for import into the country. According to The Brazil Business, these include:
Goods designed for children that replicate the shape of cigarettes or similar products

Rough diamonds for countries that aren't ethically attained

Narcotics and illegal drugs

Used goods (except donations)
For a more detailed explanation of what can and can't be sent to Brazil as well as standard import taxes, contact HM Revenue and Customs. You can also refer to our prohibited items page for goods not permitted for carriage by couriers.
How do I get a quote?
Getting a quote is easy. Just enter the details of your parcel (its weight, height and length) into the quick-quote tool above, click Quote & Book, and choose the courier quote that's right for you. Simple.
Get a Quote
Where can I find more information?
If you need any more information, you'll find plenty of helpful stuff at our online Help Centre There you can browse our FAQ guides — covering everything from packaging tips to international shipping advice — or talk to one of our friendly advisors via the chat window.
Get a Quote