Send a parcel to Finland from only £21.50
Collection and drop-off service available
Get parcel cover worth up to £50 included
Protect your parcel up to £5000 with extra cover
Send up to 70kg on selected services
Get a Quote
No Services
---
There are no services that collect and deliver to your selected countries.
Finland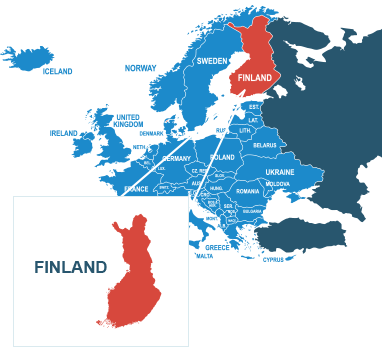 Trusted by millions of senders worldwide, booking your postage to Finland with DPD Local Online will ensure your courier delivery will go as smoothly as possible.
Send parcel to Finland from the UK
Offering endless arctic adventures, Finland is tucked away in the far North of Europe and offers endless summer sunshine and dark winter nights illuminated by the magical Northern lights.
Whether you want to send a parcel to Helsinki, Tampere or to someone very special in Finnish Lapland, our reliable international courier delivery network will ensure your parcel post reaches its destination on time and within budget.
We aim to make arranging your postage to Finland as easy as possible, which is why we offer a simple choice of express or economy courier delivery. Our collection or local drop-shop services also make sending a parcel quick and convenient.
So, to arrange postage to Finland, complete our online form to receive an instant quote.
Get a Quote
Express
Door 2 Door - Air Express
Collection tomorrow
if you book in the next
3 hours
Buy This Service
Economy
Drop off at Shop - Air Classic
Drop off your parcel
anytime today
Buy This Service
Super Economy
Drop off at Shop - DPD Classic
Drop off your parcel
anytime today
Buy This Service
What else do you need to know...
Do I need to deal with customs when sending from the UK to Finland?
Finland is a member of the EU, so there's no need to worry about dealing with customs when posting to Finland from the UK.
How much does it cost to send a parcel from the UK to Finland?
When you book through DPDLocal-Online, postage to Finland costs as little as £21.50.
How should I address my parcel for delivery to Finland?
The Finnish addressing system works similarly to the way it does in the UK, with a few details varying due to the nature of the post code format. For example, if you're shipping to a business, the business name and unit are placed as two lines above the addressee name, making the address six lines in total. For more information, you can refer to the UPU specifications.
What items can I send?
As a general rule, anything that you can send in the British post can be sent to Finland. Items that aren't permitted into the country include:
Meat and milk from non-EU countries

Products of species protected under the Washington Convention, such as ivory, tortoise shell, and reptile skin

Radioactive materials
Contact Finland's department of customs for more information. It's also worth getting acquainted with our useful prohibited items list for goods that can't be carried by our couriers.
How do I get a quote?
Getting a quote is easy. Just enter the details of your parcel (its weight, height and length) into the quick-quote tool above, click Quote & Book, and choose the courier quote that's right for you. Simple.
Get a Quote
Where can I find more information?
If you need any more information, you'll find plenty of helpful stuff at our online Help Centre There you can browse our FAQ guides — covering everything from packaging tips to international shipping advice — or talk to one of our friendly advisors via the chat window.
Get a Quote