Send a parcel to France
• Ship to France from the UK with DPD.
• Express and economy options available.
• Track your parcels in real time with DPD Predict.
Prices start from just £15.22
Get a Quote
No Services
---
There are no services that collect and deliver to your selected countries.
France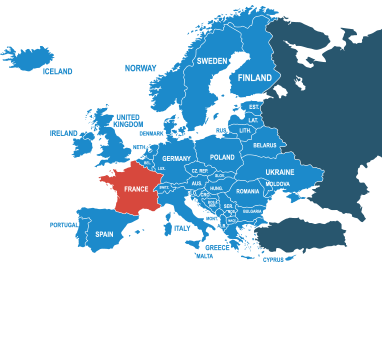 Need to post a parcel - UK to France? We offer fast and affordable services to our neighbours across the English channel. At DPD Local Online, we believe that you shouldn't settle for any less than the best for your delivery needs to France.
Wherever it is you're sending to in France – be it the pleasant promenades of Paris or the rural vistas in the sunny South – DPD can get your parcel there with speed and with care. With us, sending parcel to France needn't be a daunting task, our easy-to-use website allows you to quickly research, choose and book the service that's right for you.
We have loads of choice for postage to France; with a number of express and economy options at your fingertips, you can balance your needs with your budget in seconds.
That's why we're trusted by millions of senders throughout Europe .
Get a Quote
Express
Drop off at Shop - Air Express
Drop off your parcel
anytime today
Buy This Service
Economy
Drop off at Shop - Air Classic
Drop off your parcel
anytime today
Buy This Service
Super Economy
Drop off at Shop - DPD Classic
Drop off your parcel
anytime today
Buy This Service
What else do you need to know...
Since France is a member of the European Union, goods sent from the UK will not be charged UK VAT, instead import VAT & import duty will be charged at local EU country rates. These will be payable by the recipient. Parcel2Go has made the BREXIT compliance easy for you by providing the correct codes when determining the contents of your parcel.
---
By booking your delivery to France with DPD Local Online, you're getting access to a premium courier service at a price everyone can get behind. Book your consignment today and you'll be able to send from as little as £15.22.
---
We make your delivery to France more predictable with DPD Predict, DPD's unique parcel tracking service. Plus, we'll provide your customers with a one-hour delivery window so they don't have to wait around.
---
The following items are prohibited from being sent to France. Any such items that are shipped there will be rejected at customs:
Synthetic pyjamas that are not fire-retardant
Coins and precious metals
Toys or games containing copper sulphate
For more information, you should consult HM Revenue and Customs or refer to our prohibited items page.
---
How do I get a quote?
Getting a quote is easy. Just enter the details of your parcel (its weight, height and length) into the quick-quote tool above, click Quote & Book, and choose the courier quote that's right for you. Simple.
Get a Quote
Where can I find more information?
If you need any more information, you'll find plenty of helpful stuff at our online Help Centre There you can browse our FAQ guides — covering everything from packaging tips to international shipping advice — or talk to one of our friendly advisors via the chat window.
Get a Quote