Send a parcel to Italy
• Ship to Italy from the UK with DPD.
• Express and economy options available.
• Track your parcels in real time with DPD Predict.
Prices start from just £17.00
Get a Quote
No Services
---
There are no services that collect and deliver to your selected countries.
Italy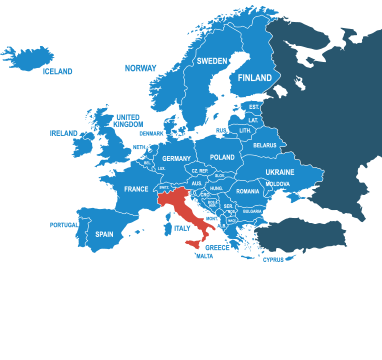 Italy is known for its sun, its cuisine and its strong family values – and with DPD, it can be known for swift, reliable delivery too.
At DPD Local Online, we've gone out of our way to ensure that postage to Italy is as cost-effective and hassle-free as possible for our customers. Our couriers are well equipped to ensure that shipping to Italy has never been easier - and as part of the EU, you don't need to worry about customs duties, charges or excessive paperwork when sending a parcel. Whatever it is you need to send to Italy from the UK, we'll get it there without any problems... and within the timeframe expected.
Send a parcel to italy
Thanks to our extensive European delivery network, we're able to offer economy and express delivery services when you send a parcel to Italy, and for prices that you won't find anywhere else.
To find out why you should choose DPD for your delivery to Italy, get a quote at DPD Local Online and send a parcel to Italy today.
Get a Quote
Express
Door 2 Door - Air Express
Collection Monday
if you book in the next
9 hours
Buy This Service
Economy
Door 2 Door - Air Classic
Collection Monday
if you book in the next
9 hours
Buy This Service
Super Economy
Door 2 Door - DPD Classic
Collection Monday
if you book in the next
9 hours
Buy This Service
What else do you need to know...
Customs information about Italy
Italy belongs to the European Union. Thankfully, this means that you won't need to worry about paying customs duties or filling out excessive information when you ship to Italy from the UK.
Track with DPD Predict
Worried about keeping tabs on your consignment once you've sent it off? With DPD Predict, you'll get real-time updates on the whereabouts of your parcel even when it gets to Italy.
Better still, we'll even provide your customers with a one-hour delivery window to ensure they don't have to wait in all day for their parcel.
Postage costs with DPD
You might think that sending with Europe's expert couriers would be an expensive affair, but – thankfully – that's not the case.
When you book a delivery to Italy with DPD Local Online, you'll be able to ship from as little as £17.00, while still getting that sky-high quality of service that DPD are famous for.
Restricted Items
Items that will be rejected at the Italian border include:
Meat and dairy from non-EU countries
Products of protected specifies listed by the Washington Convention, such as ivory, tortoise shell, and reptile skin
For more information, contact HM Revenue and Customs. You can also refer to our prohibited items list.
How do I get a quote?
Getting a quote is easy. Just enter the details of your parcel (its weight, height and length) into the quick-quote tool above, click Quote & Book, and choose the courier quote that's right for you. Simple.
Get a Quote
Where can I find more information?
If you need any more information, you'll find plenty of helpful stuff at our online Help Centre There you can browse our FAQ guides — covering everything from packaging tips to international shipping advice — or talk to one of our friendly advisors via the chat window.
Get a Quote