Send a parcel to Japan from only £19.65
Collection and drop-off service available
Get parcel cover worth up to £50 included
Protect your parcel up to £5000 with extra cover
Send up to 70kg on selected services
Get a Quote
No Services
---
There are no services that collect and deliver to your selected countries.
Japan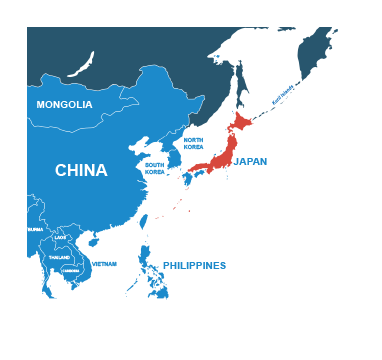 An island country in East Asia, Japan is made up of 6,852 islands which can make sending a parcel to Japan a little daunting. Thankfully, at DPD Local Online can equip senders with all the tools they need to arrange reliable, worldwide parcel delivery with the minimum of fuss.
Postage to Japan from the UK
Trusted by millions of senders across the world, you can be certain that your parcel to Japan is in safe hands with us. Whether you want to arrange a parcel service to Tokyo, Osaka or somewhere much more far-flung, our experience in international parcel delivery will ensure your parcel post arrives at the Land of the Rising Sun on time and within budget.
Working out how much postage to Japan will cost is easy with DPD Local Online; just choose from express or economy parcel delivery, complete our straightforward online form and we'll take it from there.
Get a Quote
Express
Drop off at Shop - Air Express
Drop off your parcel
anytime today
Buy This Service
Economy
Drop off at Shop - Air Classic
Drop off your parcel
anytime today
Buy This Service
What else do you need to know...
Do I need to deal with customs when sending from the UK to Japan?
As with the majority of international deliveries, you'll need to attach the appropriate customs labels when posting to Japan. Luckily, dealing with customs is a breeze when you book with DPDLocal-Online. That's because when you place your order, we'll send you over all the necessary forms for you to fill in as way to ensure that your packages get through customs hassle-free.
How much does it cost to send a parcel from the UK to Japan?
Despite having to travel almost 6000 miles, postage to Japan costs as little as £19.65 when you book with DPDLocal-Online.
How should I address my parcel for delivery to Japan?
Addressing to Japan follows the same rules as it does here in the UK. It's worth noting that Japanese ZIP codes are made up of seven numbers, rather than our letter-number system.
For an in-depth look in how to address a parcel to Japan, you can refer to this useful addressing guide put together by the Universal Postal Union.
What items can I send?
The Japanese imports office follows the same regulations as the majority of the world in terms of which items can and cannot be brought into the country. Banned items include:
Print and film materials deemed obscene (including pornography)
Materials that infringe copyright
For the best information on postal legislation in Japan, check with the Japanese customs office. Plus, it's worth familiarising yourself with our prohibited items list to ensure that your item can legally be carried in UK post as well.
How do I get a quote?
Getting a quote is easy. Just enter the details of your parcel (its weight, height and length) into the quick-quote tool above, click Quote & Book, and choose the courier quote that's right for you. Simple.
Get a Quote
Where can I find more information?
If you need any more information, you'll find plenty of helpful stuff at our online Help Centre There you can browse our FAQ guides — covering everything from packaging tips to international shipping advice — or talk to one of our friendly advisors via the chat window.
Get a Quote