Send a parcel to the Netherlands
• Ship to the Netherlands from the UK with DPD.
• Express and economy options available.
• Track your parcels in real time with DPD Predict.
Prices start from just £12.50.
Get a Quote
No Services
---
There are no services that collect and deliver to your selected countries.
Netherlands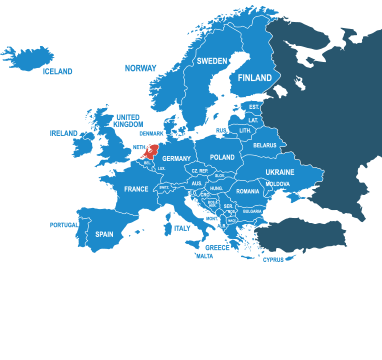 Some consider the Netherlands to be one of Europe's key trading points. The port of Rotterdam is instrumental in a great deal of trade between Europe and western countries like the US and the UK.
But when it comes to shipping goods to the Netherlands, there's no better option than DPD.
Send a parcel to the Netherlands
With a range of express and economy delivery options available, DPD can always find you a service that fits your needs as well as your budget. Better still, we're experts in international delivery, and our extensive European courier network means your parcels get delivered more safely and more quickly than they would with anyone else.
To send your parcel to the Netherlands the better way, get your shipping quote at DPD Local Online today.
Get a Quote
Express
Drop off at Shop - Air Express
Drop off your parcel
anytime today
Buy This Service
Economy
Drop off at Shop - Air Classic
Drop off your parcel
anytime today
Buy This Service
Super Economy
Drop off at Shop - DPD Classic
Drop off your parcel
anytime today
Buy This Service
What else do you need to know...
Customs information about the Netherlands
As a member of the European Union, the Netherlands won't issue charges associated with customs duties on deliveries from other EU countries – including the UK. That means you don't need to worry about additional costs when sending to the Netherlands from the UK.
Track with DPD Predict
Sending to the Netherlands doesn't have to be a stressful affair. In fact, our unique tracking feature DPD Predict is designed to ensure that your delivery is stress-free.
With DPD Predict, you get real-time updates on the whereabouts of your parcel, even when it's entered the Netherlands' delivery network. Better still, we'll give your recipients a one-hour delivery window for their convenience.
Postage costs with DPD
Despite being a premium courier, we offer our services at a budget price to ensure quality meets affordability every time you send with us.
That's why when you book at DPD Local Online, you can ship to the Netherlands from as little as £12.50.
Restricted Items
The following items are prohibited for delivery to Germany, and will therefore be rejected when they reach the border:
Laser pointers
Fish and fish products
Goods infringing copyright
Soil
Seeds
For more information, contact the
Dutch customs authority
or check our
list of prohibited items
.
How do I get a quote?
Getting a quote is easy. Just enter the details of your parcel (its weight, height and length) into the quick-quote tool above, click Quote & Book, and choose the courier quote that's right for you. Simple.
Get a Quote
Where can I find more information?
If you need any more information, you'll find plenty of helpful stuff at our online Help Centre There you can browse our FAQ guides — covering everything from packaging tips to international shipping advice — or talk to one of our friendly advisors via the chat window.
Get a Quote